26Jul/16
Betfred Has Launched a Slot Machine Dedicated to Mike Tyson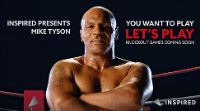 The gaming supplier Inspired has officially launched its first themed slot machine dedicated to Mike Tyson. The new slot is available for the game on all platforms exclusively in Betfred casino.
Videoslot Mike Tyson Knockout was the first product, the creation of which was approved by the world champion in boxing. Videoslot is now available in the retail version in Betfred, online, and mobile applications.
The full collection of branded gaming products dedicated to Mike Tyson includes roulette Mike Tyson Roulette (the release will be next month), poker Mike Tyson Blackjack and a videoslot, which will be based on darts (release will be this September). The issue of the virtual boxing Mike Tyson Virtual Boxing will be held later this year.
Inspired representative said that they were looking forward to the release of the slot, the first product of the series of branded games. Mike Tyson is an iconic figure in boxing, so a collection of games dedicated to the boxer, will be the perfect embodiment of the world of boxing.
General Director of Inspired said that he was pleased to offer these original products exclusively to customers of Betfred casino.
The new slot is a real knockout. The company is known for its innovative and exciting new game offers, and this video slot, of course, is the leader among others.
For the past five years Betfred Casino has been offering its customers to play virtual sports created by Inspired.