25Aug/16
Bookmaker TonyBet began working with the virtual currency Bitcoin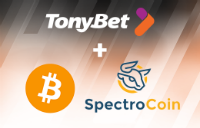 One of the fastest growing bookmakers in the world, TonyBet, began working with the virtual currency Bitcoin, giving its players a chance to make deposits using a new payment method, which is firmly being fixed in the online gaming industry.
Popular online gaming website concluded an agreement with an electronic purse SpectroCoin to become one of the first gaming sites that have adopted Bitcoin.
The bookmaker will allow players to deposit and withdraw money in Bitcoin currency, and then exchange it into regular currencies at the time of the game. This is the main characteristic, which is not available on most other sites, receiving e-currencies.
According to official information of the website, the bookmaker has decided to work with Bitcoin currency to make its service more attractive to a wide range of potential and existing players. The introduction of the new payment method has surpassed all expectations of the company, since it has led to a huge number of new registrations.
Electronic purse SpectroCoin is a unique solution for Bitcoin, as it offers its customers a wide range of operations with Bitcoin currency – from the exchange to the opening of the electronic Bitcoin purse. Activities of SpectroCoin match Bitcoin philosophy, according to which the conclusion of financial transactions should be done quickly, without failures and delays.