13Feb/17
Microgaming announces an upcoming online slot Phantom of the Opera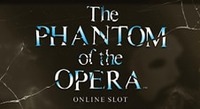 Microgaming is the company that does it best to please players worldwide. That's why it will launch a brand new online slot Phantom of the Opera based on the well-known 2004 movie, which was a successful adaptation of the musical introduces in 1986. This online slot version is promised to use the best footage from this movie and its iconic soundtrack.
Phantom of the Opera is the movie that had its unequivocal success because many millions of people watched and loved it worldwide. So, a brand new online slot with the same title powered by Microgaming is also expected to gain its huge popularity quite soon. For this company, it's quite exciting to work with a new genre for its branded content based on a popular musical. This brand always keeps broadening and extending its portfolio of interesting casino games.
Phantom of the Opera is the casino game that will be a celebration of the most popular opera in the world. It will balance a perfect combination of basic gameplay features with unique and generous bonuses, such as free spins. When this online slot will be released, it will complement a great variety of Microgaming offers. You can play the most popular slot machined powered by this famous company in Casinoland.