18Jul/16
Slot Machine When Pigs Fly Is Available for Playing in Betsafe Casino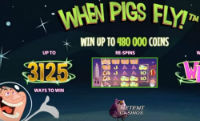 New slot machine from NetEnt, When Pigs Fly, will be released on July, 21, but now it is already disposable exclusively for the play in the casino of Betsafe.
When Pigs Fly will be the second slot that will be released this month by the Net Entertainment, after launching NRVNA The NXT Experience a week ago. When Pigs Fly is a five reel slot with five paylines, which starts from 50p per one spin on all devices.
The game's plot takes place in outer space, where pigs live. The slot has a cartoon atmosphere. The characters are represented in airships, balloons, pilot caps, women's aviators and men's pilots-piglets. Re-Spin feature is central in the game.
When players have a win spin, they will attain a free re-spin, when the quantity of paylines comes to 135. A higher number of winning combinations brings a greater number of free re-spins and the winning line is increased to 405, 675, 1,125 and 1,875.
If you manage to win five times in a row, the mode of free spins is getting started, when the quantity of paylines comes up to 3,125. Thus, the potential gain can be multiplied by 962 times of the amount of the bet on each free spin.