02Aug/16
Endorphina Will Release Online Slot Machine 2016 Gladiators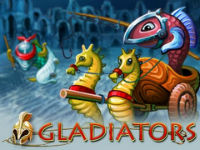 Endorphina, popular Czech provider of software that proposes a wide collection of flash videoslots for online casino operators, announced about the imminent launch of its new product – 2016 Gladiators online videoslot. The new videoslot will be released just in time for the Olympic Games.
During the game, players will meet with the representatives of the most interesting kinds of sports that will be presented in the form of symbols on the reels.
Representatives of Endorphina stressed the fact that the team has worked very hard to create a new play, in accordance with the upcoming Olympic Games, which will begin this week in Rio de Janeiro in Brazil.
By rotating the reels on the new videoslot players can now experience the real excitement and trembling during the race. The slot allows players to win large cash prizes, without leaving home. With the new videoslot, even those who cannot afford participating in the big sports, have an opportunity to win enormous prizes in this exciting competition.