28Nov/16
Hansel and Gretel is the latest slot machine offered by mFortune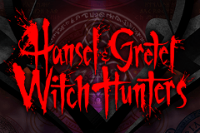 Hansel and Gretel is a slot machine developed by iSoftBet and introduced by mFortune. It's based on the famous fairy-tale and it differs from other available online slots because its symbols fall from special cartoon trees instead of appearing on classic reels. This gaming machine has 15 win lines and many vivid icons, including teddy bears, old witches, killer bees, and others. However, all players want to get 5 buckets of jewels to end up with an excellent jackpot.
Besides, there are 2 interesting mini-games offered by Hansel and Gretel, and they provide you with a great chance to earn more money. The first one is Win Peaks game and it's triggered after getting 2 or more bird icons in winning lines. The Witches Trail is triggered by getting 2 or more compasses, and both of these bonus games can bring huge winnings.
A progressive iSoftBet jackpot is another major attraction of this new slot machine. Players also need to pay attention to its innovative gameplay, lucrative features that can bring high cash prizes, fantastic graphics, and stunning sound effects. Don't miss your chance to play an online slot Hansel and Gretel offered by mFortune because you can end up winning a lot of money.