15Nov/16
A lucky visitor of Omni Casino won big at a slot machine Everybody's Jackpot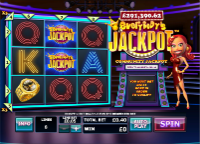 All big winners are happy to share their happy stories at online casinos, and one lucky player from Canada whose nickname is DG26 is no exception. The good news is that he won over $285000 by hitting a progressive jackpot while playing an online slot Everybody's Jackpot at Omni Casino.
This happy player has many nice things to tell others about Omni Casino, which is a well-established and popular online gambling platform. He says that this casino is very helpful, friendly, and attentive to everyone, and he also liked its available range of online games. There are many other players who also agree that Omni Casino is responsible and reliable.
Everybody's Jackpot is a unique slot machine in different ways. For example, it's played on the 9 blocks, which are nine separate reels with fixed 8 paylines that can run in any direction. If you succeed to form winning combinations on diagonal lines, your winnings will be multiplied three times. The progressive jackpot is the main attraction of this online slot, and it's triggered randomly and it allows players to win 70% of the available jackpot prize amount. Everybody's Jackpot also has a very lucrative free spins feature triggered by scatters and offering 12 free spins.