12Oct/16
A new Superheroes online slot will be soon released by Yggdrasil Gaming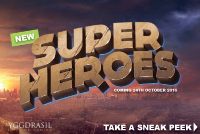 There is something that all people like about superheroes and this theme is quite popular in the gambling industry. That's why Yggdrasil Gaming will soon introduce its upcoming online slot Superheroes, which is expected to be available on the 24th of October.
This casino game has standard 20 paylines and 5 reels, but its unique feature is the availability of 6 superheroes, and each of them corresponds to a bonus and can bring you a specific superpower to help you win more money.
Wild Reel has a reel transformation as a superpower, so this symbol can transform any reels into wilds for higher winnings. Random Wilds can shower meteors over reels to turn symbols on them into wilds in an unlimited number. Multiplier comes with power balls to fire your reels and multiply winnings, and Extra Free Spins (as this hero's name suggests) can bring you free spins and more awards.
Mystery Win and its most unique superpower won't leave any gambler indifferent because it can turn all of the high-paid symbols on reels into dice that can reward players up to 1000 coins when rolled. Finally, Random Symbols is the hero with a power to change 2-5 symbols on reels to guarantee lucrative cash prizes to a lucky player.