22Sep/16
Play'n GO has announced the launch of two bingo slot machines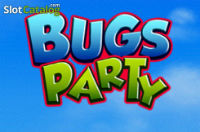 Play'n GO, a leading provider of slot machines and table games in the online industry, has introduced a completely new category of online casino games, releasing two bingo videoslots.
Two bingo videoslots, Bugs Party and Flying Pigs, have been designed in conjunction with the Latin American company Zest Gaming, and represent the first products that are sold outside the region. Videoslots have the functions of a slot machine and a bingo screen.
The Flying Pigs videobingo offers gamers to go on a farm in the countryside. In the game, players must fill out cards with 15 randomly generated numbers. 30 from 60 balls fall in a random order. Players that in order to win need to fill in only one number in the card number can gain a cash prize by activating an extra ball.
The Bugs Party videobingo proposes a similar scheme of the game, but in this game a mad officer of pest control will stop players who are trying to direct bugs in order to build winning sets.
Jars of jam attract bugs, bringing players large cash prizes in a special bonus round where players can increase their gains by activating an additional ball.
Both bingo games have a high-definition graphics and are run on mobile gadgets and computers.