06Oct/16
Play'n GO has launched a new gaming machine Super Wheel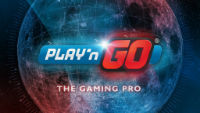 Play'n GO, a leading developer of intelligent systems and games for game terminals, mobile devices, and websites, launches a new casino game Super Wheel.
The new game is a revolutionary new product. To begin the game, players must simply make a bet on the gaming table. Once the bet is placed, the wheel begins to rotate. Chips can be placed at 1 for a chance to win money, 3 to win 3:1, 5 to win 5:1, and so on. Fearless players can even make a bet on one of the symbols to try and win 47:1. The wheel may stop on one of the 52 segments. The game has a convenient button that allows players to make the same bet round after round.
Players can bet on any of the seven available options. When the bet is placed, and the SPIN button is clicked, the wheel begins to rotate. The indicator at the top of the game screen will stop between the pegs, showing the winning number. All winning bets are returned to the player.
Play'n GO has recently released two more premium games, Bugs Party and Flying Pigs, which were developed in conjunction with Zest Gaming.