01Sep/16
Scientific Games has signed a definite agreement to buy DEQ Systems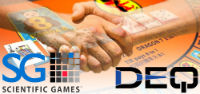 One of the primary developers of services and products in the global gaming industry market, Scientific Games, and DEQ Systems, one of the main developers of content solutions, table games, and progressive installations have declared the signing of a definitive contract to purchase DEQ Systems by Scientific Games.
Under the new contract signed between the companies, Scientific Games will purchase all of the released DEQ's common shares as well as those in circulation for the cost of CAD $0.38 per share. According to the transaction, the DEQ is estimated at about 20.7 million US dollars.
The deal should be completed in the end of 2016 or in the beginning of 2017. The deal is still needs to be accepted by DEQ's shareholders and get an endorsement of certain jurisdictions, as well as it requires discussions about closing conditions.
Roger Snow, senior vice president of Scientific Games, said his company has long sought to gain access to the collection of board games and other products of DEQ.
DEQ's general director noted that this was a very good deal for his company, and he was couldn't wait to start cooperation with the Sci-Games to make sure the transition goes smoothly.