15Jul/16
Slot Machine Joker Million from Yggdrasil Brought a Big Win to a Player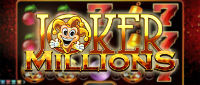 Last week, one player won a large sum of money on the popular slot machine with a progressive jackpot, Joker Million from Yggdrasil, in LeoVegas casino.
The lucky player turned out to be a citizen of Norway, who won 2.9 million euros while rotating reels on Joker Million machine, developed by Yggdrasil. The player who is 21 year old, named Chris, lives in Oslo. On Monday afternoon, he was waiting when his girlfriend completes shopping in the store, and decided to while away the time by playing some slot machines at LeoVegas. Chris made a bid in the amount of 1.25 euros on his mobile device and won a large sum of money in the amount of 2,881,257 euros. Chris stated that he was going to invest the money to buy two flats and wants to go with his girlfriend to the Maldives to celebrate the victory.
This is not the first time a Joker Million slot brings huge wins to players. Since its release in March 2015, two players won cash prizes playing the slot – one in the amount of 720,000 euros in September last year and the other one in the amount of 460,000 euros in December last year.
Joint Jackpot of Joker Million is 2 million euros, and in contrast to many other slots with progressive jackpot, this game also has a deep and exciting base game.