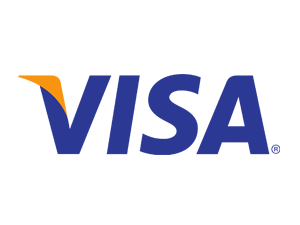 An incredible amount of fun and excitement is waiting just around the corner at one of the hundreds of online casinos ready to entertain you. If only there was a fast and simple way of putting cash into a real money account. One of the fastest and simplest ways of starting a bankroll is to use a Visa card. These cards come in many different flavors: Credit cards, debit cards, prepaid cards and gift cards. The most universal of these is the Visa credit card, and players around the globe are using them as safe and secure ways to transfer money into online casino accounts.
Visa cards are popular with online gamblers because of the ease in which they can start a real money account at virtually any online casino. Visa is accepted practically everywhere. There are many U.S. friendly casinos that accept Visa cards without question. It couldn't be easier to set up a casino account with your information, navigate to the cashier tab of the casino and input the card's number. Some casinos require you to include the card verification value, or CVV number, which is a three digit number on the back of the card. Then players can enter the amount of money they want to transfer. Gamblers can be making wagers at the card tables in a matter of seconds.
There are some reports around the Web of certain Visa cards not being easily accepted, such as Visa Electron cards. There is also the chance that, in countries where it is illegal to gamble or laws restrict online gaming, a card will work several times without problem and then suddenly be blocked by the card company or backing bank. Still, there are many advantages to using a Visa card over other methods. One is the card's inherent security, which when combined with the encryption from the online casino makes it difficult for the card to be stolen. Using Visa cards can earn players extra bonuses, like a special deposit bonus rewarding players with 10 to 15 percent of your deposit in extra cash automatically credited to their accounts just for using the card.
The ultimate reason many players choose the Visa card over its main rival, MasterCard, is that unlike MasterCard, some Visas allow players to withdraw money back onto the card. This makes for an instant withdrawal method which means instead of waiting days or weeks for a check to be delivered or a wire transfer to clear, money can show up on the card and be available in a matter of minutes. Not all casinos will process withdrawals back to a Visa, and sometimes this method is not available from the card company's end for some reason, but it is a major advantage to have that option open for players who are lucky enough to be able to take some of their money back. Please be aware that some casinos must charge a small fee for any withdrawals, including those sent to a Visa card. Some casinos will offer a waiver on the first withdrawal, and some casinos give players one free withdrawal each month. All reputable online casinos will clearly list whether a player will pay a fee for taking out money via a credit card.
It is very rare to find a casino that doesn't accept credit cards, especially Visa cards. Casinos want to give their players the best experience possible. Casino Bonus News.com also wants players to have the best experience their money can buy, which is why this site has listed all the best online casinos that accept Visa cards as payments.